Filed under:
Software
,
Technology
on Tuesday, November 3rd, 2009 by scott
|
No Comments
Hear Ye!  Hear Ye!  The new 9.10 release of the Ubuntu operating system, codenamed Karmic Koala, is now officially available for mass consumption.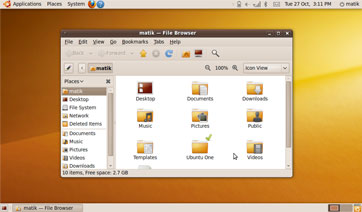 http://www.ubuntu.com/products/whatisubuntu/910features/
I've been a full time Ubuntu user for almost two years now, and after upgrading all of my computers at home to 9.10 this past weekend I have to say that this is without a doubt the best release yet.  The new Software Center is a great redesign and should make it much easier for new users to find and install software.  Also, the Ubuntu One cloud storage seems like it could be a useful feature for sharing files and documents between computers, as well as providing a simple method for offsite backup of data (you get 2Gb for free).  There are other notable software updates in this release, including the latest versions of Gnome Desktop, Firefox, and OpenOffice.org.
If you have yet to try Ubuntu, I highly recommend that you give this release a shot.  It's completely free to download, install, and share with your friends.  Try doing that with Windows 7 .  🙂